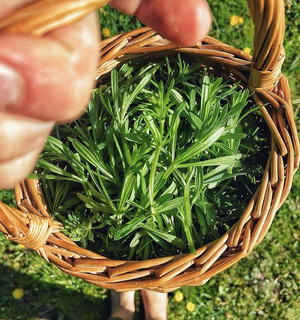 Cleavers. Stickygrass. Stickywilly. What ever you wanna call it.
One of the most underrated herbs by those who view it as a weed, yet its value given to the lymphatic system is nonpareil. 
Used since ancient times, when Dioscorides brought attention to its topical use via juice for aiding snake & spider bites. 🐍 
Some Indigenous tribes used it often as a kidney tonic, while others called upon it for external skin conditions such as rashes & poison ivy, and also as a hair wash. 💦 
In folk herbalism, it has been known as a remedy for cancer, working internally & externally… 
(please don't report me Instagram✌️) 
Nowadays, it's known best as an alterative, anti-inflammatory, antimicrobial, antitumor(citric acid in juice), astringent, bitter, diuretic, hepatic & laxative. 
I love to make a cold infusion and sip on it daily in the morning during spring. Its taste is super refreshing, kinda like cucumber water, but more potent! 🌱 
Cleavers is also a star in my Lymphatic Love Body Butter, so I infuse lots of it into olive oil. 
You probably have some Cleavers growing in your yard. Get to know 'em. They're here for you. 🌱